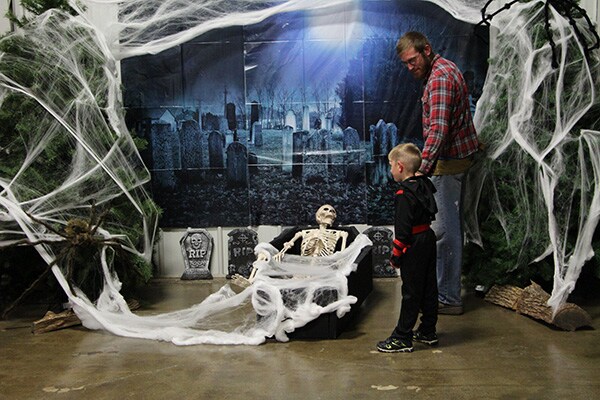 Craig Smith First Annual Trunk or Treat
Our first Trunk or Treat went well, we saw around 200 kids come through.We want to thank everyone who attended and also thank all the businesses that joined in and passed out candy. We hope all who attended enjoyed themselves. We will be more organized next year and will continue again in our RV building next year. We had to change the location in one day so we apologize for it not being as smooth, but also thank everyone for being so kind. The winners of the costume contests are Vincent Lough for scariest, Noah Gingery for most creative, Noah Cassidy for funniest and best overall Evan Metzger. And once again thank you all who attended we wish we could have given a prize to everyone who walked in the door. Every single one of you in costume looked awesome. We hope you all enjoyed, we will see you next year.  See all the photos now.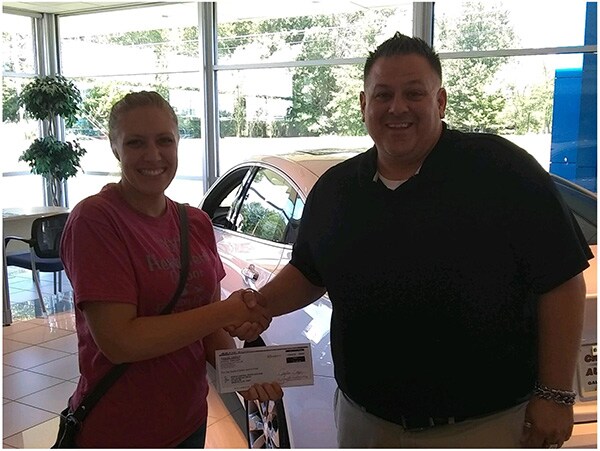 NORTH CENTRAL STATE COLLEGE RADIOLOGY CLASS DONATION
July 17, 2018
 - Craig Smith Auto Group made a donation to the NCSC Radiology Class' 5K Glow Run.  The 5K Glow Run will be held on Saturday, October 13th at 9AM at KeeHall at NCSC's campus.  The organization attends a mandatory two-day conference in Columbus.  At this conference, students attend educational sessions, participate in an academic challenge with other Ohio radiology programs, and practice a "mock" examination to help review for the Registry exam.  All donations help with registration fees and hotel lodging.  We wish the students of NCSC Radiology the best of luck!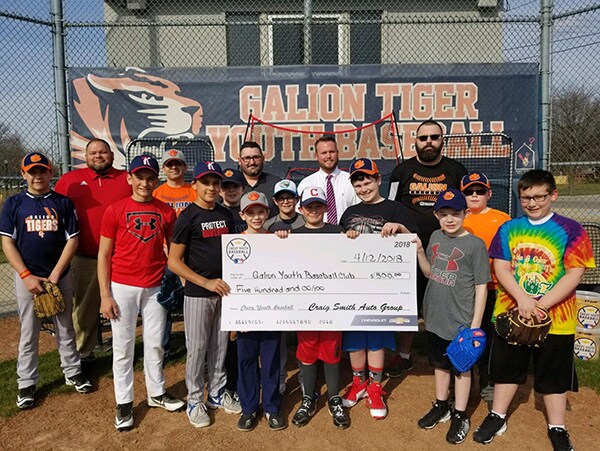 CRAIG SMITH AUTO GROUP GOES TO BAT FOR GALION YOUTH BASEBALL CLUB
Galion, March 20, 2018 -
Craig Smith Auto Group is partnering with the Galion Youth Baseball Club in Galion. Craig Smith Auto Group has joined forces with the national Chevrolet Youth Baseball program to provide new equipment, invitations to FREE instructional clinics, and an opportunity for community members to earn donations for their league via a Test Drive fundraiser. 
"Playing the game of baseball helps kids develop skills like leadership, cooperation and sportsmanship while bringing families and communities together to show their support. Craig Smith Auto Group and Chevrolet Youth Baseball are proud to participate in a sport that brings so many smiles to kids and families in Galion." said Bill Willis, TITLE for Craig Smith Auto Group. "Chevrolet believes that in play, there are possibilities and supports the spirit of teamwork that baseball instills in its players."
2018 marks Chevrolet's Youth Baseball program's 13th year, and since its introduction has helped aid local teams, benefiting more than 12.4 million young people in communities where Chevrolet's customers live, work and play. In 2017, more than 1,500 Chevrolet dealers participated across the country.
Craig Smith Auto Group will present an equipment kit that includes useful items such as batpacks, scorebooks, industrial-strength batting tees, ball buckets and T-shirts. The sponsorship also includes youth clinics featuring current and former MLB/MiLB players and coaches, or instructors from Ripken Baseball.
In addition, Craig Smith Auto Group will present a check representing a one-time monetary contribution to Galion Youth Baseball Club. Sponsored leagues across the country will have the chance to earn additional funds as community members take test drives at their partnering dealership to help support the league.
In addition to its commitment to youth baseball, Chevrolet also is the Official Vehicle of Major League Baseball™.
"Chevrolet vehicles are designed and built for families, safety and fun, so we encourage young people and their parents to make a Chevrolet the official vehicle of their household," said Willis.
For more information about Chevrolet Youth Baseball, please visit www.chevrolet.com/youthsports.com.